Castle Community Church is a Local Ecumenical Partnership bringing together the former Castle Methodist Church and the Northwich United Reformed Church,
The minister of Castle Community Church is Methodist Minister, Rev'd Chris Pritchard.
Rev'd Chris is supported by a United Reformed Church Minister, Rev'd Alma Fritchley who lives in Northwich and Rev'd Pat Billsborrow, a Methodist Minister, who lives on Castle.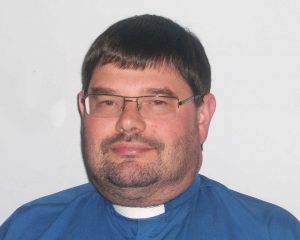 Rev'd Chris Pritchard
Telephone 01606 44613
Rev'd Chris is also the Mid Cheshire Methodist Circuit Superintendent Minister.
Chris would be pleased to receive a telephone call from you if you are in need of pastoral care or wish to talk about a baptism, wedding or funeral.
Rev'd Chris writes ….
I originate from Alsager on the Cheshire/Staffordshire border and I went to school in Crewe so I know Cheshire quite well.  My family have always belonged to the Methodist Church and I grew up at Wesley Place in Alsager.  The Junior Church, young people's fellowship and church youth club had a very great deal of influence on my growth to adulthood and to a mature Christian faith.
I moved away from Alsager when I was 19 and lived for a number of years in Sheffield whist I studied for a Civil Engineering degree and then worked for Rotherham Council. Then God called me to become a Presbyteral Minister and so in 1995 began training for the ministry at Hartley Victoria College in Manchester. On leaving college I served in the Rhyl & Prestatyn Circuit for six years and then spent eight years in the Wrexham Circuit before moving to Mid Cheshire in the summer of 2012.
I have a wife Ruth, who I met while I was in Rhyl, and two grown up children, John and Becki.  When I am not working I try and split my time between my family and my two hobbies.  I have had a season ticket for Stoke City FC since the start of the 1975 season and I am also a keen birdwatcher and on my day off I am often found on the North Wales coast searching for birds.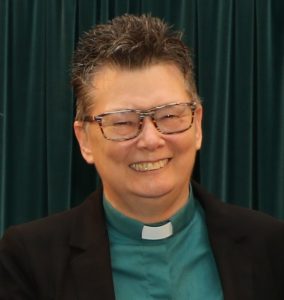 Rev'd Alma Fritchley
Telephone 0781 357 8452
Rev'd Alma is our United Reformed Church Minister and lives locally in Northwich.
Alma is also the chaplain of the Laurel Court Residential Methodist Home in Didsbury, Manchester where she thrives in caring for those with dementia.
Rev'd Alma writes ….
As a newly ordained minister with the United Reformed Church, I am thrilled to be taking up this new role and looking forward very much to working alongside those at Castle Community Church and the wider community.
This will be an exciting challenge with pastoral care being a major part of my ministry.
I hope to draw on my skills and experiences as chaplain of a Methodist Home in Manchester to help those in need in Northwich.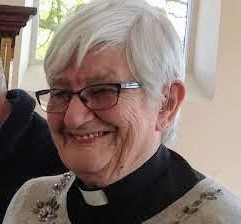 Rev'd Pat Billsborrow
Telephone 01606 872057
Rev'd Pat lives on Castle and, as a Methodist Minister, provides additional pastoral care at Castle.
Pat also provides support at Moulton Methodist Church and to the residents of Queen Elizabeth House in Northwich.
Rev'd Pat writes ….
I am pleased to be back at Castle providing pastoral care and additional support as and when required.
During my previous ministry at Castle I was proud to be part of the team that brought together Castle Methodist Church and Northwich United Reformed Church as a successful Local Ecumenical Partnership in 2014.
I am currently a member of Northwich and District Churches Together which gives me a strong link with other local churches in the area.
All our Ministers can be contacted via our our Contact Page